Hammock camping is a surreal experience that we all should experience in our lifetime. However, mosquito bites can be super annoying and they're also the carrier of many deadly diseases.
Hammock with mosquito nets is the ideal sleeping solution when you're camping, hiking, or spending some time outdoors. You can rest well and have a good night's sleep while keeping all the mosquitos and bugs away.
Well, the market is filled with tons of options and it's hard to choose the best camping hammock with a mosquito net. To help out in this crucial situation, we have picked the top-rated hammocks in the market so that you can sleep like a baby throughout your camping trip.
Quick Look of Top 6 Camping Hammock with Mosquito Net
Best Camping Hammock with Mosquito Net: Reviews
The number one contender is the Sunyear Camping Hammock with Mosquito Net. This hammock is very durable because it is made with the material of 210T parachute nylon. This fabric is known for its incredible wind-resistance and lightweight features. Parachute nylon is completely breathable and you'll not feel uncomfortable at all.
You will find two different sizes of this hammock. The 500lbs one is recommended to use for a single person and the 600lbs is recommended for double. There are a total of 9 different color variants of this hammock. The net boasts being made with sturdy material to keep you away from mosquitos and all the creepy crawlers.
It has a super simple and hassle-free installation process. You don't need to buy any tool separately as it comes with 2 easy-step hammock straps, carabiners, and ropes to install it. Sunyear is known for its impeccable customer service and the good news is that with the hammock you'll get a lifetime guarantee. Also, if you're not satisfied with the product, you can get a full refund. That's cool.
Pros
Available in two different sizes.
Comes in multiple colors.
Made with lightweight and durable parachute nylon.
Includes all the tools for installation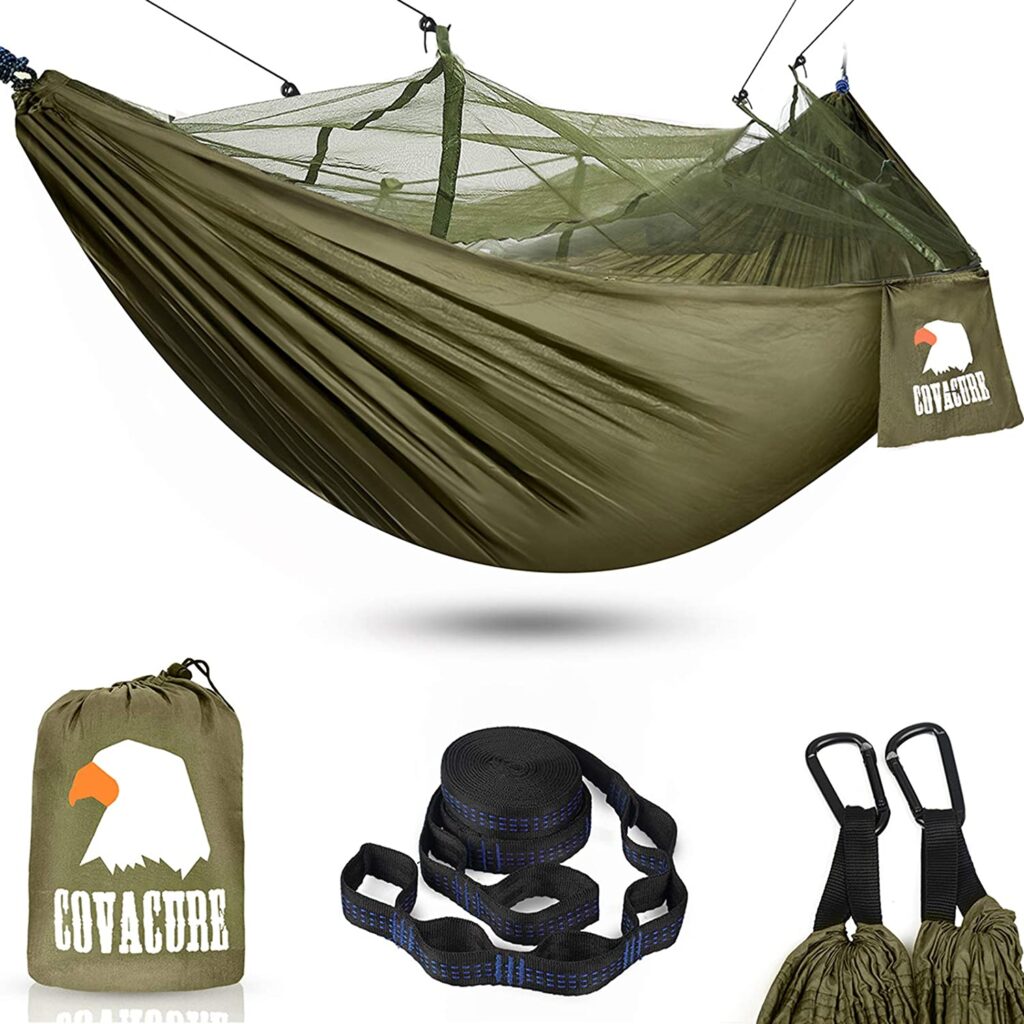 Another best hammock with net is the COVACURE Double Hammock with Net. It is made out of 210T ripstop nylon that is totally tear-resistant and breathable. The material dries quickly which helps while carrying in all weather conditions. Another key feature is that the Hammock has triple-stitching extra-strong nylon straps that give reliable support and reduced pressure points.
Having the weight of 1.76lbs it feels reasonably lightweight, and capable of holding the weight up to 440lbs. The design makes it so spacious that you can lay down comfortably with ease. It has a quick and simple installation procedure and for setup, it's a matter of minutes. When purchasing, you'll get the carabiners and straps except for the rope, which is recommended to buy it on your own.
The mosquito net with the Hammock has a specially designed material that's twice denser than the regular nets out there. Despite the dense construction, the net is quite breathable and you'll not feel suffocated at all.
Pros
Lightweight and breathable construction.
Holds up to 440lbs of weight.
Made with strong ripstop nylon.
Dries quickly.
Cons
Doesn't come with the nautical rope.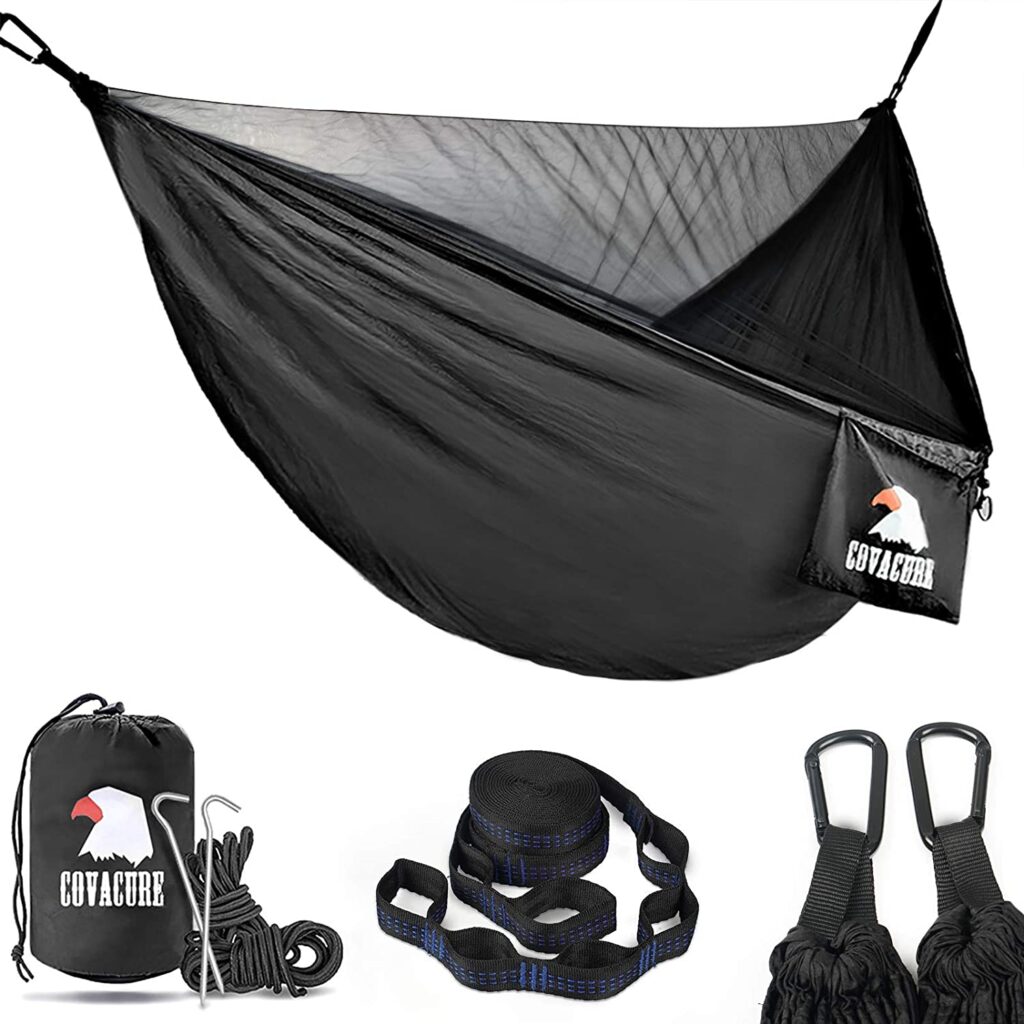 We have got another amazing hammock from Covacure to keep your camping trip a fun and safe one. It's a double camping hammock with a lightweight and durable design. The hammock weighs only about 1.93lbs which is quite lightweight considering it's a double hammock.
It's constructed with superior quality parachute nylon that can support up to a whopping 772lbs. It measures at 9.5ft x 4.6 ft and packs down to only 114.2 x 55 inches for easy carrying. If you're looking for a durable double hammock with mosquito net then this one will give you the ultimate support.
The Hammock has 2 sand pegs and ultra-strong nylon straps that makes the hammock more stable and safe. While purchasing the hammock you'll get the carabiner and with the rope made from nylon to set it up in a jiffy. The net is also made with highly durable material to keep the bugs and mosquitos away. For storing some little items there's also a storage bag sewed to the hammock.
Pros
Lightweight and compact design.
Maximum load capacity of 772lbs.
Affordable.
Durable mosquito net.
Cons
Doesn't include an instruction manual for the setup process.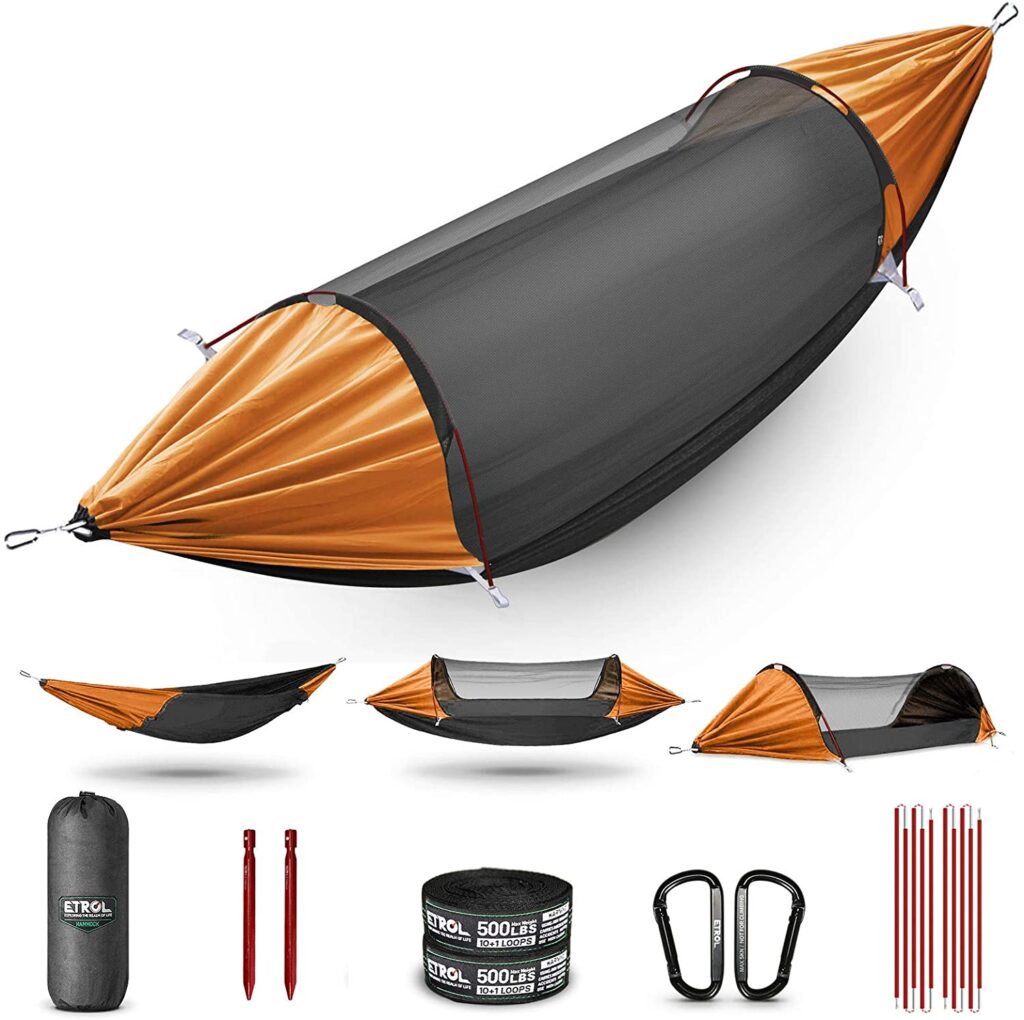 The ETROL Camping Hammock with Mosquito Net is undoubtedly the best camping hammock with mosquito net in the market. It's a multi-function hammock that includes a mosquito net, a hood with a shading design, and also works as an emergency tent. Sounds like a complete package, right?
The hammock itself weighs only about 2.5lbs and it comes in a myriad of different colors. It has a spacious design that can withstand a maximum load of up to 440lbs. It's made with a highly breathable and ultra-lightweight 70D nylon taffeta. It comes in a portable carrying sack which makes it easier to pack and carry around.
It has a quick and simple installation process. You'll receive 2 metal poles, 2 carabiners, 2 hammock straps, and other necessary items to set it up. The straps also have 10 loops for easy length adjusting. There's also a hook inside the net to hang lamps during camping nights.
Pros
Multi-function design.
Includes all the tools for installation.
6-months warranty.
Constructed with durable 70D nylon taffeta
Cons
Zippers are a bit fragile.
Are you on a tight budget but looking for a hammock that will not make a dent in your wallet? Well, we have found the perfect one called Yoomo Camping Hammock with Mosquito Net. It's made with heavy-duty parachute nylon that ensures exceptional durability and comfortability.
The best thing about this hammock is that it offers a zip-up mosquito net which gives you the ultimate protection while camping outdoors. There are 5 different colors available with stunning designs that give your camping trip a nice vibe. It can also be used as a relaxing hammock by flipping it up. Thanks to its solid and stable construction, this hammock is able to hold up to 600 pounds of weight.
It has an easily foldable design that will occupy a little space in your bag. It's perfect for those who love to go on solo trips where you can travel lightly. Yoomo offers excellent customer support with a 100% satisfaction guarantee. They have got a 5-star rating from most of their customers.
Pros
Budget-friendly.
Available in multiple colors.
Lightweight design.
Durable mosquito net and hammock.
100% satisfaction guarantee
Cons
It doesn't include a carrying bag.
If you're looking for a double for your next camping outdoors then the Easthills Jungle Explorer Double Hammock is the best choice for you. The material used in making it is the top-quality 210T taffeta parachute that ensures impeccable durability as well as breathability.
The net mesh has a mesh design that provides proper ventilation at the same time bug protection. The mesh a whopping 250 holes per square inch to ensure the ultimate protection against bugs and mosquitos.
It has a roomy design that can easily accommodate two people – that is, as long as their combined weight does not exceed 700lbs. There are integrated double-sided zippers so quick adjustments and reinforced hanging points to stop tearing.
While purchasing you will get everything required to install the hammock and you need nothing to buy any additional tool. It includes 2 aluminum carabiners, 2 net ropes, and 2 long tree straps with 16 adjustable loops. There are 4 internal hanging loops to store small personal items.
Pros
Durable 210T taffeta parachute construction.
Breathable design.
Lightweight and compact.
Includes all the tools for installation.
You probably also looking for Hammock Seeping Bags.
What to look for before buying a camping hammock?
Before purchasing a Camping Hammock some key points must be kept in mind. The following information will give you a brief idea about the buying guide of a camping hammock with net.
Material of a Camping Hammock
The camping hammock needs to be lightweight and durable at the same time. You should never go for a hammock that's made with low-quality material. Parachute nylon is one of the most popular choices for camping hammocks for its incredible durability and breathability.
Polyester is another favorite choice as it's highly durable as well. Both of these materials hold on well against weather elements and last a long time.
Weight Capacity of a Camping Hammock
You sure don't want to rip the hammock in the middle of nowhere and floor on the ground. Always check out the weight capacity before purchase to make sure it's compatible with your preference. The rule of thumb is to opt for a hammock with at least 150lbs more capacity than your body weight.
Safety of a Camping Hammock
It can cause severe damage to your body if you fall abruptly from the hammock. Make sure the hammock has durable built quality and made with high-quality materials. Hammocks with spreader bars are quite unstable and they're not an ideal choice for camping. You should opt for the models with bars as they're more stable and offer better safety.
Comfort of a Camping Hammock
Just because you're outdoors, it's not necessary that you need to compromise with your comfort. The best camping hammock with mosquito net will provide you the ultimate comfort and ample protection at the same time. The hammocks we picked have adequate spacing so that you can sleep comfortably throughout the night.
Portability of a Camping Hammock with Net
Portability is one of the prime concerns when you're shopping for camping hammocks. If it's too heavy then it'll be harder for you to carry it around. Also, if it's too bulky then it'll occupy more space and make it a hassle to transport. Try to pick a hammock with a mosquito net that has a compact and lightweight design.
Price of a Camping Hammock with Net
Price is one of the top concerns for every type of purchase. The market for hammocks is quite competitive and there are tons of different brands available at different price ranges. We have carefully picked out the best camping hammock with the mosquito net at a variety of price ranges. This will give you the flexibility to pick your best match and enjoy your camping time to the fullest.
Installation of a Camping Hammock with Net
A hammock with a tricky installation process will be nothing but a nuisance during your trip. Make sure you opt for a hammock that has a simple and quick installation process. Also, most of the hammocks that we reviewed come with the essential tools for easier set-up. This will save you both hassle and money as you don't need to buy any extra tools.
Final Words
We have picked up the best camping hammock with a mosquito net so that you can have a fun camping trip with great sound sleep. These hammocks have a versatile design with exceptional durability to keep you hassle-free during the trip. Whether you're a regular camper or a seasonal one, you'll surely love these hammocks for their outstanding strength and comfort.
Don't forget to share if you like it.