Are you planning a trip to a remote area? Well, surviving without water is absolutely unimaginable and it's a must-have need doesn't matter what situation you are in. However, it's not always possible to have safe and clean water in a remote area. So, how do you tackle situations like this?
It is a water purifier that is a very simple portable device yet effective. This little thing is able to purify dirty water and it's very handy. It removes all kinds of unhealthy bacteria and particles from the water and gives you clean and fresh drinkable liquid. For your convenience we have picked only 6 water purifiers and give reviews of the best portable water purifiers for travel so that you can be hydrated all the time.
Quick Look of Top 6 Portable Water Purifiers for Travel
Best Portable Water Purifiers for Travel: Reviews
Our first choice is the GRAYL Ultralight Water Purifier [+ Filter] Bottle. With a notable design this device comes with two layers of non-woven ceramic fiber that ensures ruggedity and durability. Whether you're traveling or hiking, this baby has got you covered.
It is a very compact 16oz. size and you can easily carry it with you to anywhere you want. Though it is highly portable it doesn't compromise its features. It comes with a superior filtration process that is able to convert any unhygienic water into toxic free water within just 15 seconds. It can eliminate all the impurities and harmful substances from the water due to having two layers of filter media.
The filtration process is so good that it gives you enough confidence to consume it. Because it removes toxic waterborne microorganisms like Rotavirus, Norovirus, Hepatitis A, etc very effectively. It can also be able to filter out bacteria and protozoan cysts from the water. The purifier is equipped with activated carbon that absorbs all the chemicals, heavy metals, and removes odor as well.
Pros
Rugged durable design.
Two layers of filter media.
Removes chemicals, bacteria, and odor.
Quick filtration process.
Light and compact design.
The LifeStraw Go Water Filter Bottles is undoubtedly one of the best portable water purifiers for travel and I vouch for its effectiveness. The bottle comes in 10 different designs to give you a cool vibe to show off your style.
It has a membrane made of hollow fiber, and that removes up to 99.99% bacteria, parasites, and microplastics. The fiber membrane is engineered to filter out around 4000-liters of water before needing replacement. The activated carbon removes the presence of chlorine and other organic chemicals like pesticides, herbicides, etc.
This filter has gone through a rigorous testing procedure to ensure optimum safety and filtration precision. All the claims made by LifeStraw have been certified by laboratories following the standard testing protocols.
Along with making your life easier, LifeStraw also makes a tremendous contribution to society. They will ensure safe drinking water for every school child in need of a purchase you make. Great initiative, right?
Pros
Highly effective microfiltration membrane.
Each filter lasts up to 4000-liters.
Absorbs contaminants, chemicals, and odors.
Rigorous testing process.
Available in 10 different colors.
The Brita Premium Filtering Water Bottle has a super sleek design that will make your trip fun and hassle-free. Users can choose from multiple designs and two different sizes. The built-in loop attached to it helps a lot to easily carry around.
You will get premium quality plastic used in the bottle that makes it highly durable and BPA free. It comes with a leak-proof lid design that ensures zero leakage or spills. The bottle is able to keep the water cold up to 24 hours. It's convenient shape fits perfectly in your bag and also in most car cup holders.
The main feature of this bottle is to have a filter to remove all the traces of chlorine. It helps to reduce the smell and taste of chlorine in the process as well. Each filter lasts up to 40-gallons of water that will last you around 2-months even after regular consumption.
Pros
Durable BPA-free plastic construction.
Removes chlorine.
Keeps the water cold for 24-hours.
Available in two sizes.
Cons
Doesn't filter out virus or bacteria.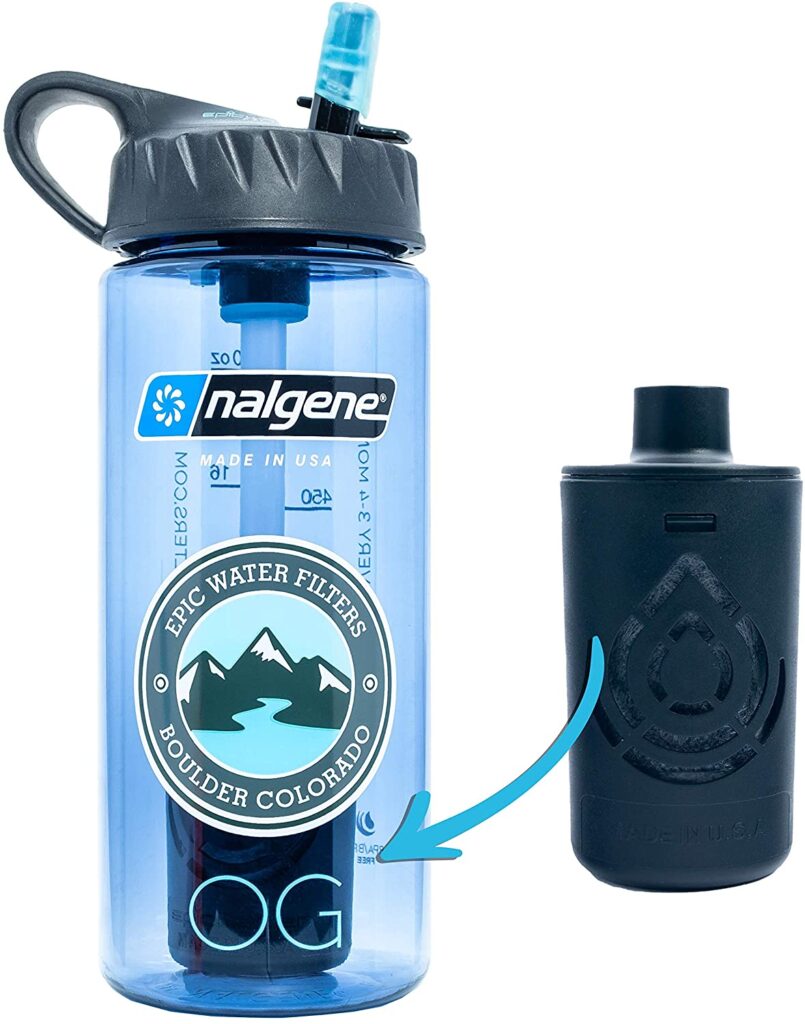 The Epic Nalgene OG does live up to its name and indeed delivers an epic performance. It comes in 11 different designs and 4 different sizes. If you're looking for a large bottle for a long trip then the 48oz will be an excellent choice for you.
It's constructed with BPA-free plastic that's both super safe and durable. Epic also offers a 100% money back guarantee to ensure your complete satisfaction with their product.
The bottle has an eco-friendly organic carbon fiber mesh that's made from coconut shells. This material is known for its superior filtration job. It uses innovative depth and absorption filtration to take out all the contaminants like metal, chemicals, cysts, etc. from water.
The company does some excellent philanthropic contributions as well. They donate 1% of the total sales to environmental organizations to make this world a better place.
Pros
Available in multiple designs and sizes.
Money Back guarantee.
Filters out impurities.
Made with food grade BPA-free plastic.
With the Hidrate Spark 3 with you, your trip will surely be more fun and memorable. It comes in 5 funky designs with glow illuminating features. It lights up in three exciting color patterns. They are used to remind you to drink more water by illuminating.
This item uses BPA-free material to ensure optimum safety for your health. It comes in a 20oz size that will keep you properly hydrated throughout the day. The bottle has a battery that is long lasting and replaceable.
A very cool feature comes with the bottle and that is it can track your water intake with help of an innovative sensor technology and syncs your progress to the Hydration Tracker app. It is compatible with most of the fitness apps out there and helps you play around with your fitness and hydration mission. There's also a tracker that helps you identify the location from where it was last synced.
Pros
Glow illuminating design.
Available in 5 different colors.
20oz. size.
Able to sync to fitness apps.
Built-in battery.
Cons
Available in only one size.
The Filtered Water Bottle from Survimate is an absolute godsend when you have trouble finding fresh and pure water while traveling. It has a versatile design that will provide you with fresh drinking water even in the harshest outdoor condition. You'll get 8 different designs to choose from, however, it's available in only one size.
This water bottle has four high-technology purifiers installed in it that delivers exceptionally high performance. All these stages work together to filter out the impurities and particles floating on the water to make it safe for drinking.
It's constructed with Tritan Copolyester that's BPA-free and free of any plastic smell. The bottle is highly durable and has heat-resistant properties as well. The filter lasts up to 1500 liters, and that can last you for almost about a year. However, the lifespan may vary a little depending on the water quality.
Pros
Users can choose from several colors and designs.
4-stage filtration process.
1500-liter filtration capacity.
Durable construction.
If you are interested you can also check out our other camping kitchen stuffs reviews, like Grills, Stoves, Coolers.
How To Choose Portable Water Purifiers For Travel?
Having clean water for consumption is not possible all the time, especially when you're traveling. Impure water contains many pathogens, bacteria that can cause many waterborne diseases and lead to long-term damage to our physical health. It's vital that you choose the best portable water purifiers for travel to stay properly hydrated when you're on the go.
Size of Water Purifiers
When you're traveling, you sure don't want to carry a bottle of water that is heavy. The bottles we reviewed above are fairly lightweight and they'll not be a nuisance in your backpack. Also, most of them come in a variety of sizes so that you can choose your best match.
Ease of Use of Water Purifiers
One of the core purposes of using portable water is how easily and comfortably you can carry and use it. Portable water filters have a compact and lightweight size so it's safe to assume that they're easy to use. Sadly, that's not the case at all times. There are many water purifiers for hikers with complicated usage procedures. However, we have chosen the best portable water purifiers to travel with excellent ease of use.
Filter Capacity of Water Purifiers
Filtration capacity means the amount of water that can be filtered out. You will find a number of sizes of capacities of water bottles to choose from. We picked the best portable water purifiers for travel with a large filter capacity so that you can enjoy your trip without worrying about getting a new filter.
Flow Rate of Water Purifiers
This refers to the filtration speed and how much time it takes to filter the water. Flow rates are generally measured in ounces per minute. The speed differs with different models and brands.
All the filters that we reviewed come with a decent flow rate. However, the excess flow rate may hamper the filtration process and reduce its effectiveness. Try to opt for a filter bottle that comes with a moderate flow rate with an effective filtration process.
Frequently Asked Questions (FAQs)
Final Thoughts
Being able to drink pure water while traveling is very important. Staying hydrated will keep you more energized and help you enjoy your trip to the fullest. We have picked out the best portable water purifiers for travel that will effectively take out all the contaminants and impurities from water. They are suitable for travelers, car campers, hikers, and basically everyone who doesn't have proper access to fresh and purified water.
Share if you like this article.